It was difficult to miss the opportunity to adapt one of the hits of the moment on Netflix this 2020 to a video game, despite the fact that its premiere took place two years before through YouTube Red. Yes, Cobra Kai received his video game this week. And yes, it takes too many licenses to create something different.
Cobra Kai: The Karate Kid Saga Continues It did not look too good in the videos published by its editor, GameMill Entertainment, but you had to take off your jumpsuit waiting for the third season of the series (until January 8, 2021) and also satisfy the curiosity to see how they have been introduced elements of fantasy in this video game adaptation, with magic when attacking.
Strike first. Hit hard. But have mercy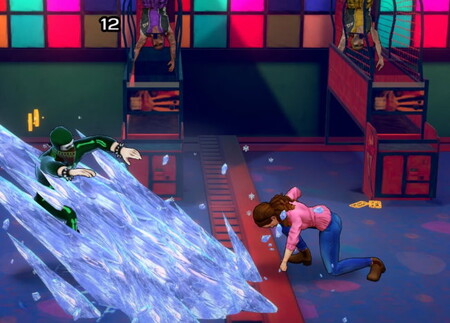 Let's make it clear from the beginning: we are facing a game that is not recommended, not even for fans of the iconic Karate Kid or this more current series. Is a beat 'em up that draws on their best-known faces, but without contributing anything to a genre that is currently experiencing its second youth thanks to "revised" classics such as Streets of Rage 4 or Battletoads. It seems from another generation.
Although it is appreciated that it follows, to some extent, sections of the series itself (in its own way), or that characters like Johnny Lawrence have their original voice, with that QUIET so blunt by William Zabka, It is still a very free vision of the YouTube / Netflix product when enjoying special attacks so typical of fighting games or beat 'em up. A most graphic example: Daniel LaRusso's mythical "illegal" kick causes a Hadoken-style crane to go off.
In fact, there are countless techniques, with several unique to each character and of the fire or ice type, that will evoke classics such as Street Fighter II, such as the ice whirlpool of Chun-li Sam. It even has a Kikoken identical to said Capcom fighter. And of course, faces like Hawk or Tory are not lacking.
It's the biggest draw in Cobra Kai: The Karate Kid Saga Continues, see the video game aspect that its main protagonists have received, with duels that could not be absent between the Cobra Kai and Miyagi-Do dojos, but away from the realism of the film or series to embrace the typical Arcadian full of "fireworks".
Of course, there is no shortage of locations seen in the two seasons of the series, with the miniature golf and arcade parts, the Larusso car dealer, the shopping center, the valley festival or, of course, the tournament. In addition, both the Cobra Kai and Miyagi-Do campaigns (yes, there are two, with a third where the true ending is revealed when the two pass in the same save game) have their own story based on color vignettes and endless dialogues.
Cobra Kai, a legend who looks better on Netflix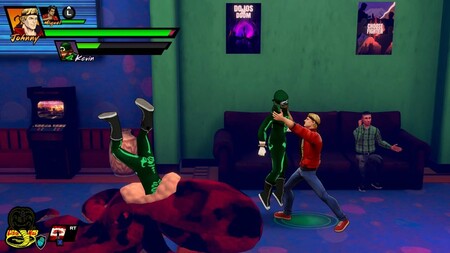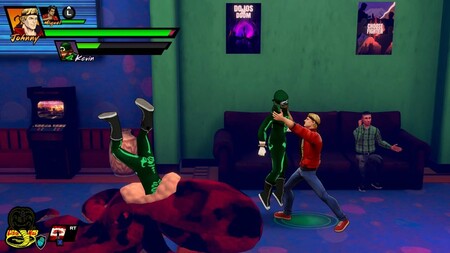 The problem, as is usual with this class of licenses, is that the set is very blurred when compared to the original product. On a graphical level, for example, it seems from the past generation of consoles if we look at the details of the scenarios, as happened with Zombieland: Double Tap – Roadtrip. And at the playable level it would need to be polished more, being rough at times.
There are spontaneous failures in the collision system, when hitting they tend to skid, instead of staying still and there is some clumsiness and slowness when executing some attacks. And that comes to amuse at times when using the counterattack (seeing how sometimes we throw the enemies towards the screen, a la Teenage Mutant Ninja Turtles from Konami) or when grabbing them and throwing them against various objects that can be seen through the stage, such as cars, baskets or "octopuses."
If we are patient, we will be able to unlock more special techniques, both those related to the dojo itself and the character in question, along with other types of passive improvements, so that the combats offer more possibilities, especially in the face of combos or juggles. And there is differences between Cobra Kai and Miyagi-DoSince the former hit harder and are related to fire, with stronger combos, while Larusso's have more life, their attacks are freezing and being more defensive their counters are better.
Is not a beat 'em up that incites to replay it twice until unlocking the true ending, in any case, as it is not as fun as others of its kind, apart from the fact that the phases tend to lengthen with presentations that break the rhythm and with a sense of depth (it will not be going from point A to B in straight line, but sometimes we will go up or down) that is not very successful. And that thanks to that three-dimensionality there will be some well-hidden collectibles.
VidaExtra's opinion
Definitely, Cobra Kai: The Karate Kid Saga Continues is not the dream product for fans of the series, being a video game that you have to forgive a lot to pass the cut required in what is seen today in the "me against the neighborhood." In the end the "merciless" thing has taken over another successful license.
Cobra Kai
| | |
| --- | --- |
| Platforms | Nintendo Switch, PS4 and Xbox One (analyzed version) |
| Multiplayer | Yes, local (two players) |
| Developer | Flux Game Studio |
| Company | GameMill Entertainment |
| Launching | October 27, 2020 |
| Price | 34.99 euros |
The best
See all the characters in the series
Those special Street Fighter techniques
Worst
Graphically it's lazy, lazy
But at the playable level it doesn't improve much either
The pace of the stages is very slow
This license needed more love
Source : Gadgetsnow