With xCloud, Microsoft wants to bring its Xbox ecosystem to smartphones. This also concerns gaming accessories.
To play xCloud, Microsoft's cloud gaming service, the easiest solution is to buy an accessory to attach a controller to a smartphone. During the duration of the preview program, Microsoft was advising an accessory on Amazon, but the firm now wants to move up a gear.
XBOX XCLOUD CERTIFIED ACCESSORIES
On its site, Microsoft announces that the firm will now certify accessories not only for its game console, but also for its xCloud service. The Xbox team is already working with the big names in the mobile sector: 8bitDo, Gamevice, HORI, PowerA, Razer or even MOGA.
It will not always be a fastening system, it could also be controllers designed for the smartphone, like those imagined by Microsoft. With Razer in the list of partners, one wonders if a possible Razer Phone 3 could directly integrate Microsoft's streaming service.
The firm also announces that beyond this new certification program, it is working to improve the connection of the Xbox controller to smartphones by working with manufacturers. As such, it recalls the recent improvements made possible by iOS 13 on the iPhone.
MOGA MOBILE GAMING CLIP FOR XBOX WIRELESS CONTROLLERS
It is impossible not to recognize the trademark of Microsoft when it comes to naming products with very light MOGA Mobile Gaming Clip for Xbox Wireless Controllers. Behind this name hides the first accessory of this new genre certified by the Xbox team and directly available for pre-order on the US Microsoft Store.
The description highlights the possibility of playing Xbox Game Streaming games on smartphones, the commercial name of xCloud. Microsoft announces that the accessory was designed in tandem with the designers of the Xbox team to adapt perfectly to the Xbox One controller while being compatible with a maximum of smartphones (maximum width of 79 mm).
The accessory will be available from November in the US and UK. We will probably have to wait for the launch of xCloud in France to see the associated accessories arrive.
Microsoft: a line of official accessories for Project xCloud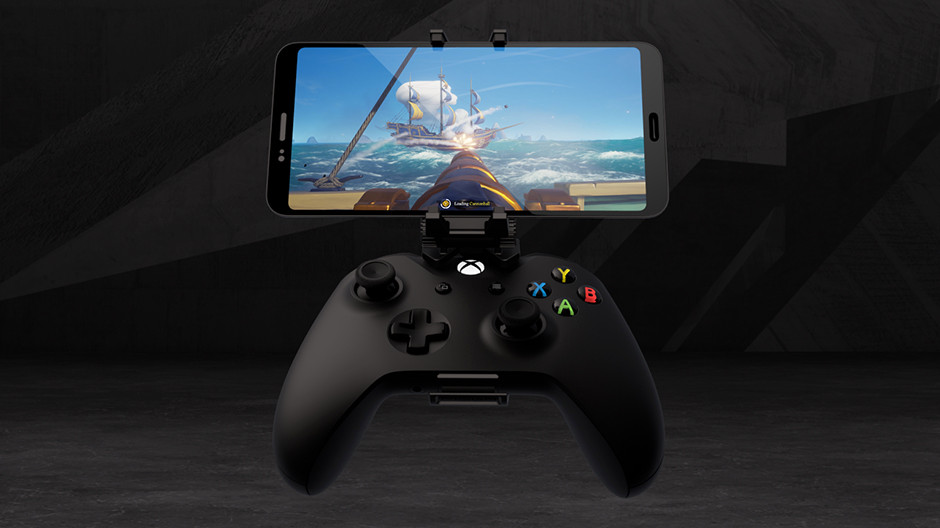 To support its Project xCloud, Microsoft will also launch a new line of accessories "Designed for Xbox".
Accessories that will obviously optimize the practice of mobile gaming, the Project xCloud allowing in particular to play on a smartphone.
The first of a new range
As you probably know, Microsoft is currently refining its Project xCloud, a streaming game service that will make it possible to find a catalog of Xbox games accessible from various terminals, including smartphones.
While some elected officials are already testing the Project xCloud service in a preview version, Microsoft has just made official the first accessory in a new "Designed for Xbox" range.
A new range of tailor-made accessories for the (good) practice of nomadic play.
A "phone clip" to start
To introduce this range, the MOGA Mobile Gaming Clip is an accessory developed with PowerA, which will be grafted onto the upper part of an Xbox controller, and on which we can also install a smartphone. The clip has two points of articulation to allow the player to best adjust the viewing angle.
This first accessory "Designed for Xbox" is already available for pre-order, with a launch date set for November 14, and a price set at 14.99 dollars.
Note that Microsoft confirms in passing that it is currently working with props like 8bitDo, Gamevice, HORI or Razer, for the development of Project xCloud accessories.
XCloud gaming service gets custom accessories, like Xbox version of Razer Kishi
Microsoft's xCloud cloud gaming service has its own accessories. Along with today's news * i that the service will launch on September 15 as part of its $ 15 / month XBox Game Pass Ultimate subscription, the company announced new mobile entries in its Designed for Xbox line, in this case, slightly modified versions of the existing third party. -party products.
Mobile controllers are essential for playing many console and PC games remotely on mobile devices because they aren't really designed for use with touchscreens and many don't translate well.
For more like this
Subscribe to the Crumpe Now newsletter to learn about our editors' picks on the most important stories of the day.
The $ 100 Razer Kishi Universal Mobile Controller for Android (Xbox) is just the Kishi – a pair of paddles that clip onto either end of your phone, connecting through the USB-C port – with Xbox-specific button labels. It is available now.
I liked the Kishi when I reviewed it in early June and while those relabeled knobs seem like a little tweak, this is one of the things I found frustrating about it: for those of us. who constantly use the wrong button because we can't remember the mappings, that's a big deal. And don't worry, it also works with other services and games.
Other accessories Microsoft highlighted for the launch included the $ 100 Xbox model of the SteelSeries tightly 1 sans fil; the $ 70 PowerA MOGA XP5-X Plus Bluetooth Controller for mobile, a version of its XP5-A Bluetooth Controller whose main feature is a 3000mAh battery to charge your phone, shipped September 15th and includes the game clip of the company for Xbox wireless controllers; and a new $ 50 8BitDo SN30 Pro for Android for those who prefer the Nintendo NES controller experience, slated for September 21 but already available for pre-order on Amazon.
Microsoft announces Xbox certified accessories to play from your smartphone
Microsoft had announced that the xCloud would join the Xbox Game Pass Ultimate on September 15. A service billed at 12.99 euros per month and which allows you to take advantage of both services at an attractive price (the Game Pass alone costs 9.99 euros). And as the Xbox Game Pass Ultimate allows you to play from your smartphone in streaming, Microsoft has unveiled a host of accessories flocked with the Xbox logo:
La manette Razer Kishi
The first accessory is the Razer Kishi universal controller which is flocked with the Xbox logo. It is grafted onto the sides of the smartphone, a bit like the Joy-Con of the Nintendo Switch. Two clickable joysticks are present, in addition to a directional cross and four buttons. The connection is via USB-C, a way Microsoft claims to reduce in-game latency and charge your phone while you play. It is priced at € 89.99.
PowerA MOGA handles
The manufacturer PowerA offers two new controllers, including the MOGA XP5-X Plus. It has a design that is evocative for Xbox enthusiasts. It incorporates a support to fix your phone on top and uses Bluetooth. It also incorporates a 3000 mAh battery to recharge your smartphone as needed. It will be available on September 15, but we do not yet know its price.
The second controller is the MOGA XP7-X Plus which will be compatible with both smartphones and tablets. It has a 2000 mAh battery and stretches to accommodate your mobile. Note that PowerA offers a new version of its own support for smartphones compatible with Xbox wireless controllers.
An 8BitDo SN30 controller with a retro look
8BitDo, the specialist in retro video game accessories also offers a controller, the SN30 Pro. It is Bluetooth compatible and allows you to adjust the sensitivity of the sticks and triggers. It will be available on September 21 for 45 euros and its listing on Amazon is already online. By the way, the manufacturer also offers support for Xbox controllers.
Microsoft intends to make life easier for players for the launch of Project xCloud.
In the era of streaming games, the worlds of consoles and mobiles meet more and more. At Microsoft, this happens in particular on the side of Project xCloud, which allows you to play Xbox One games on your smartphone or tablet, in streaming.
The project is more concrete than ever, while some beta testers can already try the service with four games: Gears 5, Halo 5: Guardians, Killer Instinct and Sea of Thieves. To take advantage of the program, you must for the moment have a compatible Xbox controller and a device running Android 6.0 or higher, but the final version will of course be compatible with the latest generation Apple products.

However, there is a small technical problem for the moment, namely that there is no accessory yet to fully enjoy Project xCloud on your mobile with your controller. Microsoft knows it, and announces for it opening up of its Designed for Xbox ecosystem, a label designating products from third-party publishers supported by the manufacturer, to mobile accessories.
Concretely, in the coming months, we will be entitled to clips, dedicated controllers and other accessories optimized for smartphones and tablets, designed for use with Project xCloud. Talks are underway with big names in the industry like 8bitDo, Gamevice, HORI, PowerA, Razer and many more. The first object to benefit from this initiative is PowerA's MOGA Mobile Gaming Clip for Xbox Wireless Controllers, an adjustable clip to easily hang your controller and your mobile. It is sold on the official store, currently only in the US and UK, priced at $ 14.99, and will be released on November 14, 2019.