Have you ever wondered why some establishments don't have a POS to pay with a card, or why do they set a minimum amount? The answer in many cases is that they do not want to have to pay the commissions imposed by the intermediaries (banks, providers of cards like VISA or MasterCard…). In the United States, it's estimated that for every $ 100 transaction, only $ 97.25 gets to the seller, with the rest falling by the wayside.
In China, they've found a way to avoid these commissions for the most part, eliminate costs for businesses, and make it possible to live with mobile payments that go way beyond what we know in Spain.
While we are used to mobile payments consisting of having a virtual copy of the physical card on our smartphone, in the Asian country they go further with payments using QR codes, a system that has completely changed business transactions in supermarkets, gas stations, taxis and any type of establishment. Even to pay the bills.
In most countries of the world, payments consist of cash and a list of banks and the partners for "plastic money", with VISA and MasterCard in mind. They barely compete in China Alipay and WeChat Pay, controlled by AliBaba – which becomes Chinese Amazon – and Tencent Holdings – owner of WeChat, the "WhatsApp of China" which goes much further in terms of functionality.
Point the camera, touch, confirm. This is what the QR payment process in China is all about.
Alipay service is free for less recurring users, as increasing commissions are added. But even the highest of all is lower than PayPal, for example: 1.2%.
The digital platforms of Alibaba and WeChat have become almost integral ecosystems where their users perform many actions that perhaps in the West we are used to using multiple apps separately.
Each user has a unique QR, as well as businesses, and communication between them is how payments are made. Banks, debit and credit card providers are being left out of an equation that is set to rise and with no sign of it being a fad.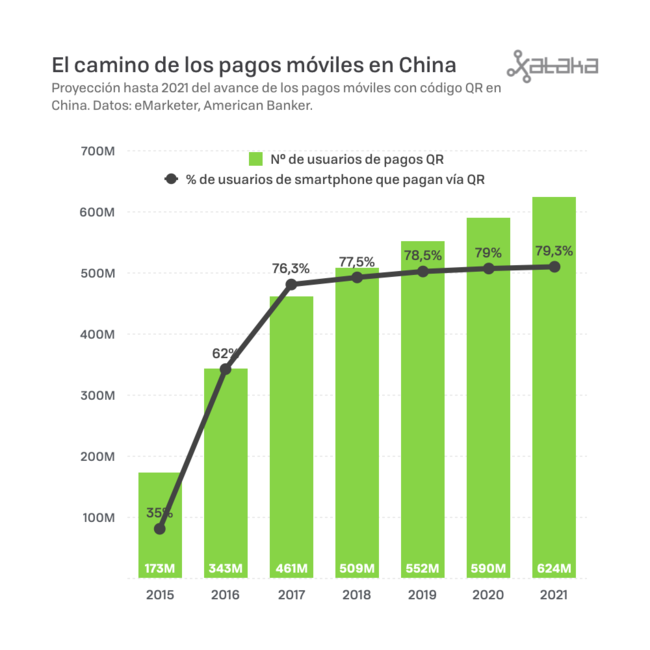 The United States views this pattern with some concern: By the time a major tech player adopts this model, their business may be in trouble.. While this figure continues to exist in many businesses, in others there isn't even an outlet to process card payments. Another cost reduction for the trader.
The secondary role of banks and card issuers
Samsung Pay demo in a regular purchase process, with an establishment's point of sale.
Those who don't own one of these point-of-sale terminals shouldn't have their company's QR printed on any sheet of paper that buyers point with the camera to complete payment.
John Engen de American banker, wrote that "banks are often reduced to passive actors", referring to the same concept that is sometimes used to talk about operators in the OTT era: they no longer have control over what happens to their customers, limiting themselves to being an intermediary sweet that tends to merchandise.
The victims of this mobile revolution are not limited to banks and card providers, cash also sees how its use remains residual. Engen himself explains that one only needs to see a line in a store to realize how much anyone using money slows down the process very noticeably.
It is not necessary to know if the establishment has a point of sale, or if it has NFC to pay with the mobile, or if it requires a minimum payment: it is assumed that everyone has a smartphone
In recent months, AliExpress has introduced a novelty on Alipay to further streamline payments: payment by facial recognition via the "Smile-to-pay" platform. Thanks to a system supported by Artificial Intelligence, this platform recognizes the user and asks him to confirm the payment by simply pressing a screen. Even the QR seems outdated compared to this variant.
On the other side of the world, WhatsApp Pay is about to arrive after years of mulling over such a landing. If this integrated payment platform is successful, we could see a completely different panorama in Spain in a few years, since our country has one of the highest penetrations of WhatsApp use in the world.
Others, like India, have a similar penetration but also use WhatsApp for almost everything: calls, video calls, ephemeral content … Will Facebook be the winner of the QR payment in the West?
Source : Engadget