LaCie Rugged SSD Pro 1TB USB-C lowered to 317.99 euros at Amazon, its all-time low
External storage drives are very helpful on computers with space constraints or for users who need to back up their most important files. This LaCie offering offers some very high transfer speeds and an off-road design, and it is lowered to its historical minimum price on Amazon: 479.99 euros 317.99 euros.
The recommended retail price of the 1 TB LaCie Rugged SSD Pro is 479.99 euros, but on Amazon we can find it with a huge reduction in its price that leaves it at 317.99 euros, reaching its historical minimum price on the platform with a discount that leaves it more than 150 euros cheaper than in other stores.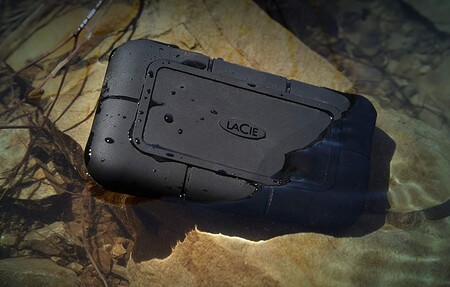 This external SSD storage unit has USB-C Thunderbolt 3, so to take full advantage of its features you need a computer that accepts this technology, such as the relatively recent Apple MacBooks or iMac. It has a 2,800 Mb per second data transfer rate.
Its design makes it very resistant to all kinds of situations. It has an IP67 rating to withstand exposure to water and falls from three meters in height. In addition, it is capable of withstanding two-ton car crushing and dust. Despite its coating and robustness, it fits in the palm of your hand.
More offers?
With Amazon prime you will enjoy faster shipments for 36 euros per year, with a 30-day free trial. Get access to original series, film and documentary productions from Amazon Prime Video with the free trial month. You have 60 days free of Kindle Unlimited, a million titles accessible from a Kindle reader or with the Kindle app on an iPhone or iPad. It can be tried for free for two months, saving us 19.98 euros. And with Amazon Music Unlimited, millions of songs free for 90 days.
In SamaGame Selección we publish the best offers related to Apple products and compatible accessories. Prices and availability may vary after publication.