Metal Slug Code: J, What We Know From Its First Trailer (With Comparative Pictures) And What We Would Like To See In The Game
Chances were that a few hours after releasing the Metal Slug X feedback, SNK introduced Metal Slug code: J with a trailer that divided the community.
It's been a little over a minute and a half, but enough to know it's a game of New Metal Slug … which recycles moments from the saga, by applying a facelift and changing much of its mechanics. In addition, it will be for mobiles, so its interface will be different due to the layout of the controls on the screen. But don't forget that another Metal Slug is being developed for home systems.
A Metal Slug review with a 3D touch
The first thing that caught the attention of the trailer for this TiMi Studios work was how its share of gameplay, be a tracing at the start of the first Metal Slug: Marco Rossi parachuting in ruins, with a gigantic head of stone behind. And as soon as they hit the ground, the enemies start arriving.
The change is more than obvious, not only because of surrender of the wonderful Pixel art 90s Metal Slug, but through this panoramic screen, where we can directly see the first soldier approaching. Personally I always keep the original, but it is commendable the level of loyalty compared to the classic in relation to all the elements of the screen, even those of the background.
A few seconds later, Marco (or Tarma Roving, depending on the character we chose in the classic) crossed a section with lots of water and various houses suspended with many parapet soldiers. And in the meantime, he crossed a completely dry lake with a stranded submarine and had to face his first helicopter using "HEAVY MACHINE GUN" ammunition.
In one minute, we crossed three different zones, with this beginning in ruins in the middle of a forest. And the rescue of several prisoners of war (prisoners of war).
In Metal Slug Code: J it will start almost the same way, but with a lot of differences if we look in more detail in the next screenshot of the video itself.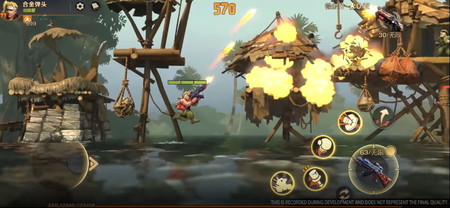 Beyond this touch interface, with these "buttons" integrated on the screen to perform different actions, we see that Marco has a life bar with which he withstands (in theory) three impacts and that there are only two prisoners of war in the area to be saved (image on the top right, 0/2). In addition, the enemies also have their own life bar and they will not die from a shot, not even the weakest.
However, the stopwatch is much more generous, going from 60 seconds in the 1996 classic to 600 seconds per phase in this 2020 game.
There are more striking details that can be gleaned from the first stage of gameplay of Metal Slug code: J, like the possibility of switch between two weapons (yes, we will no longer lose a special to take another) or that there is a power supply (with cooling after use) for shoot bullets that pierce the armor from any enemy.
Code Metal Slug: I will implement more changes
Another surprising novelty is that we will now know at all times the damage we do to the enemy, seeing different numbers based on the power of each shot, accompanying them in some cases with symbols, to indicate, for example, that it is fire damage when using a flame thrower. Hence the use of life bars.
You have to take into account, on the other hand, that throughout the video, we saw Marco at level 99 (image in the top left) and with experience to the fullest (below everything on the screen, where it says EXP 123456, so it is probably at level 1 we have less life and above all we do less damage …
Anyway, an iconic part of the video will come later …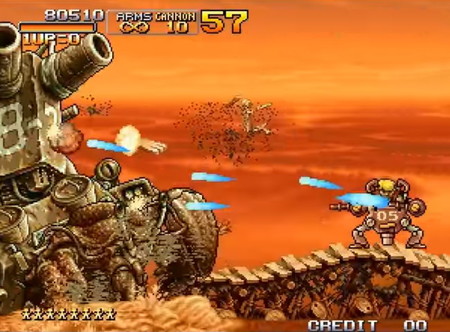 Yes, The first boss of Metal Slug 3 is also recreated in Metal Slug Code: J, experiencing another of the big changes: now we will see the boss bar at all times, so we won't get so blind until they blink and / or turn red. In addition, the wide screen is appreciated when enlarging the view.
Of course, follow the vehicles we can ride, being ideal against bosses since they have more armor. And here, the most emblematic will not fail.
Logically, being a mixture of the first episodes of the saga, in Metal Slug Code: J will be the first boss of all, at the edge of a cliff. And many others, like the second phase bomber after crossing a bridge about to fall.
We don't know how many scenarios he will have nor what all Metal slug which will reinterpret, apart from the first three. But of course, this is not the first time that SNK has reinterpreted its classics: there is the above Metal Slug X (revision of the continuation) or the most recent Metal Slug XX (revision of 7), published in 2009.
As much as the classics are separated on Android and iOS, it's different and not exactly a Metal Slug anthology either, but one remake with all the law that looks like a mixture of his best moments in his early days.
The question is whether it will have multiplayer for two people …
And what about its 3D base? What about micropayments?
Another part that raises strangers is that of your 3d world, which appears to be a base from which to chat with other NPCs, visit the gun store for upgrades to our HEAVY DUTY PISTOL, etc. The trailer only shows a flash, but it certainly gives the feeling of being the starting point for accessing missions and repeat them as many times as we want.
It's because of it the word "micropayment" is gaining strength, especially since we are dealing with a mobile game. Will he be subjected to a model free to play and will there be micropayments to improve the experience download? It remains to be seen, but if we stick to that, we can improve our character (Eri Kasamoto and Fio Germi will not fail either), it gives the feeling that it will take a lot, too much, to finally get all their juice. Hopefully he doesn't abuse it.
The study in question is the one developed by Call of Duty: Mobile, by the way.
Source : Vidaextra.com