The sixth installment of Paper Mario he exerts enormous pressure behind him. On the one hand, he must regain the confidence of all those fans who have been waiting since 2004 for a worthy successor to La Puerta Milenaria. In addition, he must demonstrate that Paper Mario it is still a profitable and attractive license compared to Nintendo standards, so you can't go above. What we have, or at least what I can tell you in these impressions, is kind of a mix between the two concerns.
The story of this origami king begins with the typical premise: there is a festival (origami, of course) in the Mushroom Kingdom, so Mario and Luigi go there to spend a lovely day with Princess Peach. and toads. However, they are too late.
The best 2020 games for Nintendo Switch
The mysterious King Olly he kidnapped the princess and took her castle. As a colophon, he turns everyone into origami beings, brainwashing them to act under his command. Even poor Bowser was withdrawn and locked up in dungeons.
Global structure similar to the classics
With this excuse we'll have to travel the world in search of the five giant banners they trapped Peach Castle. We have to find where each was born and destroy them, and we will do so accompanied by Olivia, Olly's adorable sister who will fill the classic role (joke wanted) of assistant. You know, someone has to put into words what Mario can't say because he's a silent protagonist, besides providing clues if we need them.
From the first moment, we see one of the points of reconciliation with the classic deliveries of N64 and Gamecube: The Origami King is not structured in phases on several levels, just like Sticker Star and Color Splash. Instead, as already mentioned, we have a single world in which the different areas are integrated. Similar to The millennium gate, each zone is born from a central hub where we will return again and again during the adventure, which will be the town of Villa Toad.
Be careful, that doesn't mean it's exactly an open world. The first two worlds (the one with the red streamer and the one with the blue), which are the ones I can tell you right now, they follow a fairly linear structure. Until we skip one area, we don't unlock the next one.
Even so, these leave more exploration possibilities than the last installments, both for secondary and collection purposes and for primary tasks. For example, at one point in the area of ​​the red serpentine, we are asked to collect various items to open the entrance to a temple, so we have to search everywhere at our own pace, soaking up all that the environment to offer.
Simple story, charming characters
As for the story and the characters, we have a bit of everything. Yes, most of the inhabitants of this world are still the typical Toads, Koopas and Goombas that you would see in any Mario game; there are hardly any original characters. But Intelligent Systems wanted to bet again on the companions who loved so much in classic installments, and which were so lacking in what follows. Of course, with concessions.
For now, I can only tell you about the first of them, an amnesiac Bob-Omb who will join us when we go looking for the blue streamer. At first glance, this is a current, cool Bob-Omb; it is not as distinctive and original as the design of Bombard The millennium gatenot much less. However, brings personality to the script that was missing in the latest games in the series. Specially in Star sticker.
Unfortunately, his role in the fighting was very disappointing. Rather than having a range of unique moves to choose from to defeat enemies, which was normal, Bob-Omb only performs an automatic attack at the end of our turn.
It's not even controllable, so Bob-Omb's involvement in battles is anecdotal to say the least. A disappointment for those of us who were waiting for a return to strategies with the companions of the first installments, but at least your company in history is welcome.
Where do I start if I want to play Mario Bros.
Battles and puzzles merge into the same thing
And speaking of fighting, it's time to dive into what's been one of the aspects that have raised the most doubts since its presentation. It's unlike anything we've ever played in an RPG like this, and that's good, due to the innovation, but it can also become a rare experience that doesn't go far. Especially when you consider that the fighting has been one of the most controversial points of this saga in recent years.
As you know, if you have seen the trailers, the combat system of Paper Mario: The Origami King this places Mario at the center of various rings and the enemies scattered by all of those elements. As soon as we start we will be asked align them in the most optimal way. That is, by placing them in a straight line or forming a short cone, which is the scope of our main weapons: the jump and the hammer, respectively.
For this we will have to move the rings, but we have to do it within the time limit and the strict amount of movement that the game allows us. If we are successful, the damage of our attacks will increase by 50% and the enemies will be perfectly positioned so that we kill them in one turn. Otherwise we will attack as well, but it is likely that the monsters will survive and then have their turn to harm us. After that, we'll line them up again, and so on until we're done with them.
The intention is clear from the start: more than fights, these are little puzzles. I still have to think a lot more about what that entails, but at first I think it's a welcome change. Make the more mundane battles interesting, and despite what they may look like, they resolve pretty quickly.
It's true that at first they are too guided, but that's because the game wants us to get to know them as much as possible. The fights are not that they get very difficult in these first worlds (Paper Mario has never been), but it won't take too long to introduce ourselves slightly more elaborate puzzles. Sometimes we will have no choice but to move forward with what is coming out, even if we receive a little damage.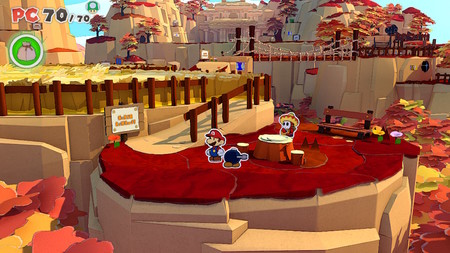 Around the progression
It remains to be seen whether normal battles will manage to keep pace in the following worlds with new ideas and ways to resolve them. Come on, don't be repetitive and heavy. For now, they are already facing another problem that will raise a lot of eyebrows: The king of origami follow in the wake of Star sticker and abandon the classic system of levels and experience points.
37 curiosities, references and secrets of Super Mario Bros. 3 to enjoy more and more of the classic NES
Battles will only give us Coins and Confetti (which are used to unlock optional paths), but there are not too many reasons to enter an enemy that we explore around, as both can be accomplished in so many other ways. At least the obligatory fights are fun.
There is a certain progression thanks to the accessories that we can buy from different traders and which will give us life enhancements, defense and more. However, this equippable medal system from early games is a long way off, which has allowed us to set up our heap style in different ways.
.
What critics of Star sticker and Color spot is it finally consumables actions have been removed. In King of origami We have basic attacks that we can use anytime. There are also upgraded weapons that wear out, but at least they allow us to use them multiple times before we go to hell. The point is, it no longer causes that feeling of "What am I going to fight for, if it only helps me spend stickers?".
So it is clear that this new episode navigate between two waters. The truth is, I've spent too much time on the comparisons, but I think it's important to analyze the path a long-standing saga intends to take. try to find each other, fiddling with various crazy ideas and then throwing them into the next game.
Like I said other times The Origami King doesn't have to be exactly the same as The Millennial Gate, but it shows that you have recovered the charisma and the capacity for pleasure than the previous ones, especially Star sticker, they did not know how to fully understand.